Your Questions Answered

Delivery information
We deliver to the whole of the UK and this includes, Northern Ireland , The Channel Islands & the Isle of Man. We also deliver to mainland Europe and Worldwide
NEXT DAY DELIVERY
We will endeavour to despatch orders received before 12 noon the following day, unless you specify a delivery date in advance. Unless you request otherwise, we send all packages by Royal Mail First Class post, which we find to be the fastest and most reliable method.
Standard UK Mainland delivery is FREE for online and telephone orders
* Free delivery is only applicable for UK mainland deliveries
Exports
We offer shipment of our chocolates to specified EU countries for a small surcharge which will be calculated at the checkout. However, we do not recommend shipping our perishable products to warm countries. As we have no control the amount of time taken to delivery & over the temperature during transit and upon arrival abroad, we cannot accept responsibility for melted products if you choose to ship goods internationally. Should you require goods dispatched by fast courier please email us at [email protected] for pricing and confirmation.
For exports to non-specified countries, a shipping quote will be calculated on receipt of order with no minimum order value
How to pay
Payment accepted
You can pay using any of the following methods:
Credit/debit cards:
Or you can send us payment in the post using a cheque or you can use a direct money transfer
All orders are positively credit card sanctioned prior to despatch, so please ensure that the details you provide us with are correct. We cannot accept responsibility for an order being held back as a result of incorrect or invalid payment details being given. We require you to supply the registered address of the Credit Card holder, which is used to validate your order with your selected credit card company. Failure to supply the correct details will result in your order being held pending the supply of the correct details.
The total value of your order will be displayed on the order confirmation screen. The displayed price is the amount in pounds sterling that you will pay. If you are ordering from a non United Kingdom address the appropriate exchange rate will apply.
In the unlikely event that your payment card is used fraudulently to make a purchase with Cocoa Mountain Ltd, you the consumer, are entitled to cancel the said payment(s). If payment has already been made, you, the customer, are entitled in accordance with the standing Consumer Protection Distance Selling Regulation (2000), to a re-credit or to have all sums returned to you by the card issuer.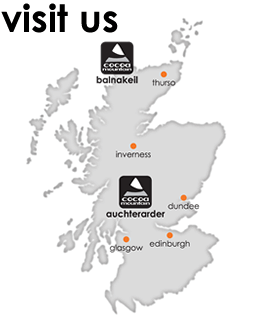 Click to enlarge map
How to find us
The Cocoa Mountain CHOCOLATE BAR is located in the Balnakeil Craft Village , half a mile north-west of Durness - the most north-westerly village on mainland Scotland .
Travelling north from Inverness to Durness, it is impossible not to travel through breathtaking scenery. We would recommend travelling via Bonar Bridge and Lairg taking the A838 from Laxford Bridge , OR the glorious west coast route via Ullapool , OR via Thurso, Bettyhill and Tongue on the North Coast
All roads offer unrivalled sightseeing, not to be missed
How secure is the Cocoa Mountain website?
Security is the main consideration for online purchasing which is why we take security very seriously at Cocoa Mountain.
Whenever your personal information is sent to or from us we ensure that the information is sent securely using the latest SSL encryption (Secure Socket Layers). This means that the information cannot be intercepted and decrypted by anyone else - for tech-heads, we use a variable SSL encryption at 256 bit dependant on the browser capabilities. All of your orders and details are kept in a secure database on our webserver and can only be accessed by key members of the Cocoa Mountain staff and are not shared with anyone else.
But don't take our word for it!
Whenever you use the site you will see the padlock icon by the URL (web address). If you click on the padlock it will bring up more details about our security certificate including the encryption level.
You can also tell you are in a secure area by looking at the url of the page (in the address bar of your browser). This will always start with " https:// " instead of plain old http://
If you have any other questions about our security, please feel free to contact the webmaster
Customer Support and Service
If you wish to talk to a human being about anything relating to Cocoa Mountain Ltd or the website, or if you have any general queries you can phone us on +44(0)1971 511233. This is a standard rate line, so calls will not cost more than normal. Our offices are open from 9am-5pm (GMT) Monday to Friday except for bank holidays, but you can send us an email to [email protected] at any time and we will respond as quickly as possible - we have a skeleton staff monitoring emails when we the offices are closed.
Our Privacy Policy
We are committed to protecting your privacy. We will only use the information that we collect about you lawfully (in accordance with the Data Protection Act 1998) and according to the Which? Web Trader Code of Practice.
We collect information about you to process your order successfully and to provide you with the best possible service. How? By keeping your details in our secure database it means that you can return to Cocoa Mountain at any time and place more orders without having to enter the information again, or you can login to your account and check on any of the orders you have placed with us or edit your details at any time. The only information we collect is the information that you enter when you register or place an order with us - we never collect any other data about you without your knowledge, Information is collected lawfully and in accordance with the Data Protection Act 1998
Your details are held by Cocoa Mountain and are never shared with other organisations. The personal information which we hold will be held securely in accordance with our internal security policy, the law and the Which? Web Trader Code.
Whilst we may e-mail you using your supplied e-mail address for queries about your orders or for order confirmation, we will not e-mail you in the future unless you have given us your consent. When you register there is an option to choose to not receive any marketing e-mails from us, and if you change your mind at any point you can change your preference either way simply by logging in to your account and editing your details or you can e-mail or telephone us on +44(0)1971 511233 and we can change it for you.
You can check and edit the information that we hold about you by logging in to your customer account online at any time.
If we intend to transfer your information outside the EEA (European Economic Area) we will always obtain your consent first.
We use technology to track the patterns of behaviour of visitors to our site, but this is done completely anonymously and without the use of "cookies".
The only time we use cookies is if you choose to save your shopping cart (so that you can return to the site with the contents of your cart still intact) or if you tick the "remember me" box when you login which will allow you to use the "quick login" function. Cookies are saved on your computer and allow us to recognise you when you return to the site
If you have any questions/comments about privacy, you should email us at [email protected] and we shall respond as soon as possible
Terms and Conditions of Use
Cocoa Mountain Ltd and its affiliates provide this site to you subject to the following terms and conditions. Please read the terms and conditions carefully as if you visit our site or shop at www.cocoamountain.co.uk you are deemed to have accepted them. Please leave the site if you do not.
Copyright Statement
The contents of this web site (including all web site design, text, graphics, the selection and arrangement thereof and all software compilations, underlying source code, software and all other material) are copyright Cocoa Mountain Ltd or its content and technology providers except in so far as individually stated on particular material or items. You may view the site and download any part(s) of it to a personal computer for personal viewing for private purposes only but you are not permitted without our permission: (a) to store it or any part of it other than for the purposes set out in this paragraph; (b) to print out copies except for your own viewing for private purposes; or (c) to reproduce, copy or transmit it (or any part of it) in any other way for any purpose or in any other medium. You are also not entitled to alter the content in any way.
Privacy
Please review our Privacy Policy, which also governs your visit to our site, in order to understand our practices.
Links
Links to other sites are made at your own risk and Cocoa Mountain accepts no liability for any linked sites. When you access a non-Cocoa Mountain web site, please understand that it is independent from Cocoa Mountain Ltd and Cocoa Mountain Ltd has no control over the content of that web site. Further, a link to a non-Cocoa Mountain web site does not mean that Cocoa Mountain endorses or accepts any responsibility for the content or the use of such web site. Users must take their own precautions to ensure what is selected for use is free of such items as viruses, worms, trojan horses and other items of a destructive nature.
Terms and Conditions of Purchase
Should you decide to purchase any products and/or services offered on our web site, you must first review and accept our terms and conditions of purchase. Please click here to view our terms and conditions of purchase.
Advertising/Sponsorship
Inclusion of any material in adverts or sponsor's materials on this web site does not constitute any guarantee or endorsement as to the quality or value of any of the products advertised or any claims made for the product by the manufacturer. Any correspondence or dealings which you may have with advertisers or sponsors promoting themselves on this web site are solely between you and that party. We shall not be responsible or liable for any loss or damage of any kind incurred as a result of any such dealing or as a result of the presence of such advertisers on the web site.
Visitors' Book
Users of this site may post or submit news, comments and other content, submit suggestions, ideas, questions or other information so long as the content isn't illegal, obscene, objectionable, threatening, defamatory, and doesn't invade anyone's privacy or infringe intellectual property rights or otherwise injure third parties in any way. To avoid any doubt, unauthorised advertising in any form of a business, product or service or any other matter on this site is strictly prohibited and any postings deemed by Cocoa Mountain to be advertising may be immediately removed . You may not use a false e-mail address, impersonate any person or entity, or otherwise mislead as to the origin of any of the content posted to the visitors' book on this site.

The views, opinions and comments and other material of users who have contributed to the visitors book are his or her personal views only and do not represent the views of Cocoa Mountain Ltd. By posting to this visitor's book you grant Cocoa Mountain Ltd a non-exclusive, royalty free, perpetual and fully sub-licensable right to use, reproduce, modify, adapt, publish, distribute, display and delete the posting without requiring further permission from you.

Cocoa Mountain do not edit postings and are not responsible for the content of posted content or images of any nature. Postings may be removed by Cocoa Mountain at any time at its sole discretion. If you believe that common standards of Netiquette have been violated, or that a posting or message violates your copyright in a work, please let us know at

[email protected]

. In no event shall Cocoa Mountain Ltd be liable to you or to anyone else for any damages of any kind, including but not limited to, compensatory damages, lost profits, lost data or any form of special, incidental, indirect, consequential or punitive damages of any kind however arising (including but not limited to claims under delict or tort (including negligence), defamation, infringement, obscenity, invasion of privacy or otherwise) even if Cocoa Mountain is informed in advance of the possibility of this.
Updates
Information may be changed or updated on this web site without notice. Cocoa Mountain Ltd may also make improvements and/or changes in the products and/or services described in this information at any time without notice.
Disclaimer
Cocoa Mountain Ltd and the hosts of this site accept no responsibility for and exclude all liability in connection with browsing this site, use of information on this site and downloading any material from it including but not limited to any liability for errors, inaccuracies, omissions or misleading or defamatory statements. Whilst we hope you find the content on our website interesting the content is for general information only. No warranty is given regarding the accuracy, currency or applicability of any of the content in relation to specific situations or particular circumstances.
Governing Law
These terms and conditions of use shall be governed by the laws of Scotland and are subject to the exclusive jurisdiction of the Scottish Courts.
Site Policies, Modification and Severability
We reserve the right to make changes to our site, our policies and these terms and conditions of use at any time. If any of these conditions shall be deemed invalid, void or for any reason unenforceable, that condition shall be deemed severable and shall not affect the validity and enforceability of any of the remaining conditions.
About Cocoa Mountain Ltd
Cocoa Mountain Ltd is a privately owned and operated Scottish company. We currently run our online shop at www.cocoamountain.co.uk.
Our Address
Should you wish to contact us at any time our details are as follows:-

Cocoa Mountain Ltd
19A Balnakeil Craft Village
Durness
Lairg
IV27 4PT

Or by email on:

[email protected]
Terms and Conditions of Purchase
Cocoa Mountain Ltd endeavours to produce the freshest hand crafted chocolates and truffles. Thus as a result, we aim to deliver the best possible customer experience, and we therefore adhere to and if possible exceed, all current and proposed legislation in addition to trade body guidelines. The conditions detailed below do not affect your statutory rights according to United Kingdom law.
Chocolate Products
Product and packaging are subject to change or substitution without prior notice. If necessary we will substitute for an equal or higher priced item directly, as the majority of our orders are time critical and we may not have time to contact you. If time is available we will attempt to contact you.
Cancelling your Order
When shopping with Cocoa Mountain , you can be assured of complete peace of mind.
You may cancel your order at any time, up until 12 noon on the day previous to that which you have requested that it is despatched. In the event that you wish to cancel your order, please contact us on 01971 511233.
In accordance with the Distance Selling Directive (2000) you may also cancel your order at any time without reason, within 7 working days of delivery. Should you wish to cancel your order and receive a refund, you must confirm this in writing and return the complete packaged item(s) to:
Cocoa Mountain , 19A Balnakeil Craft Village , Durness, Sutherland , IV27 4PT
Please be aware that you will be liable for any postage costs incurred as a result of returning items to Cocoa Mountain and you should ensure that you obtain proof of postage as you send it back. We regret that a refund can only be provided for items received back by us. This does not affect your statutory rights.
Damaged items:
All our chocolate gifts are despatched in perfect condition, as we take the utmost care in wrapping them. If any items are unfortunately damaged in transit by circumstances out with our control, you can return them to us at the address above. Once we have received the item, we will refund the full purchase cost of that item or send out a replacement by return & refund reasonable postage costs incurred.
Card Messages
We can include a special handwritten message with your gift. This will be reproduced as you type it, directly onto the message card.
We reserve the right to reject any message that we consider might offend the recipient for defamatory, racist, offensive, abusive, indecent, obscene, menacing or in breach of confidence, copyright or any other legal rights.
Ordering
There is no minimum order value

Sales Department hours: Monday - Friday 9am - 5pm
Our Complaints Procedure
If you have any complaints about Cocoa Mountain, regarding orders, products or anything else please contact us on +44(0)1971 511233 or send an email to [email protected] . We take complaints and problems seriously and promise to:
acknowledge your complaint within 5 working days
keep you informed throughout the complaints procedure
do our best to remedy any mistakes fairly